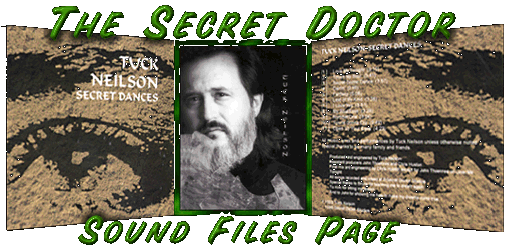 Below are samples of the songs on my CD in 8-bit mono 22K sampled wav files.
Just click on the name of the song sample you would like to hear to download.
You can also view and save the Lyrics Sheet if you'd like.
If you're interested in purchasing the CD send me an email, or just drop $10.00 in the mail to:


Secret Doctor Studios
418 Alma Lane SE.
Olympia, WA 98513.



Secret Doctor Dance .....CD1.WAV - 741k

Number One .....CD2.WAV - 586k

You're Gonna Cry .....CD3.WAV - 687k

Fantasy .....CD4.WAV - 734k

Last of My Kind .....CD5.WAV - 512k

My Blue Eyes .....CD6.WAV- 722k

I Love You .....CD7.WAV - 615k

Love Me Tonight .....CD8.WAV - 706k

Darlin' Tell Me .....CD9.WAV - 890k

Touch My Soul .....CD10.WAV - 547k

Open Up Your Eyes .....CD11.WAV - 752k



If you'd like to mix and match purchasing any new demo songs in full CD quality format as either MP3, WMA, or CDA (Wav) format, or as a cassette, just fax or email your preference (include bit rate standard plus or minus variable bit rate with all non CDA/WAV file requests). I'll be happy to send you a pre-release demo version for 50 cents per song plus shipping (determined by location).



Tuck Neilson
secretdoc@aol.com
Secret Doctor Studios
FAX 360-915-6413





Click here for the "Preview Page" and sound files of future CD releases.








Page Design & Graphics by Jim Cim